Bluefin
– The Bluefin in Monterey Bay can range from 50 pounds all the way to 250+ pounds. Because of the size of these fish, much sturdier rods and reels are required if you ever want to see your fish that is. We supply Avet 30W and Shimano 30W two speed reels spooled with 100# test on United Composite and Calstar rods. Even though we supply trolling gear, if you have some gear you'd like to get wet by all means bring it! You're going to want to make sure you have 100# test so you go home with a fish and not a fish story. Top off your braid with about 20+ yards of #100 or #130 fluorocarbon. Alan Tani, our local gear guru, states "friends don't let friends fish with 80#". You also want to make sure you have a two-speed reel. We will be trolling live mackerel, and high-speed troll MadMacs, Rapala Magnums, cedar plugs, Zukers, and Konas. Getting the chills yet?
We fish four rods (trolling). We use a lottery system to see who's on the rod first then every 15 minutes we hand off the rod to the next person. Everyone shares a portion of the catch. Tuna can range from 50 to 200+ pounds so there will be plenty of fish to go around.
Our Bluefin tuna trips go offshore as much as 25 miles and last all day. Bluefin tuna are fairly new to Santa Cruz and Monterey and they're very elusive. Our best is a two-fish day for the boat. Something to consider when your planning your tuna trip with friends. We find that a party of four can be much more effective than a party of six. It usually takes a tag team of two to bring in a Bluefin. Although our cost seems high, it pale's to the expenses of arranging for a two-day trip out of San Diego. There's no need for driving 8+ hours, finding accommodations for the night prior, paying the boat usually $700 per seat for a two-day trip, gratuity, food, drink, fish processing, and driving back home the 8+ hours. Don't get me wrong, the San Diego trips are awesome and world class, but they do tend to get expensive.
Chris Pruitt of Los Gatos and deckhand Kai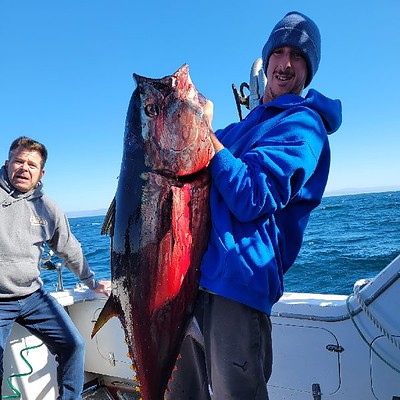 Albacore and Bonito
– We use Penn Senator 4/0 reels spooled with 40# braid on Shimano Talavera rods. When we first hookup we continue to troll for another minute or so all the while the other rods continue to hook up with fish. Once it seems were getting away from the school we circle back and start tossing out anchovies and whatever else we have to keep the fish interested and continue hooking up and gaffing fish. It gets busy, real busy. It gets messy, real messy. It's chaos at its finest. Here are a couple Bonito videos we have on YouTube we took on the MEGA-BITE. Enjoy!
Roger Zardo offsite meeting charter video on YouTube
Greg Webb, Glenn Wilson and Tom Dolan hot on the Bonita bite video on YouTube
Table full of Bonita from the Zardo charter (above video)

Bring plenty of food and drink. There's probably going to be a lot of blood and it won't wash out of your clothing. Highly recommend boots and waterproof slicks/bibs or pants you can toss when done fishing.