Rockcod Ceviche Preparation
Soak the cut up rockcod in lime juice in a glass, ceramic or stainless bowl (NO aluminum or plastic) in the fridge (the citric acid from the limes cooks the fish) for 4 hours. I use two-quart canning jars. Completely submerge the fish in juice. After 4 hour lime soak, mix everything, including the lime juice in a big glass, ceramic, stainless bowl and put back in fridge for an hour. Get your tortilla chips and a cold beer ready. You're going to be busy for a while.
Rockcod Ceviche Ingredients
2 pounds rockcod cut into ½" cubes
12 limes juiced
2 serrano peppers (seeded and diced small)
2 jalapeno peppers (seeded and diced small)
2 yellow onions diced
4 roma tomatoes seeded and diced
1 cup cilantro diced
8 garlic cloves
2 avocados diced
tortilla chips (not cheapo chips)
teaspoon cumin
teaspoon salt
Maureen's Rockcod Curry
Ingredients :
2 gloves Garlic diced
3 - 4 slices Ginger
1 Red Pepper de seeded and sliced 1/4" stripes
1 Yellow Pepper de seeded sliced 1/4" Stripes
1 small medium Butter Squash - cut into cubes
4 fillets of Rock Cod filet cut into 5" thick per piece
Chili powder 3-4 Tablespoon
Turmeric 2-3 Tablespoon
Curry Powder 5 Tablespoon
Chicken Broth 1 can
Water 1 can
Heavy cream 1/2 cup
Steps:
Heat up oil, throw in garlic and ginger stirred to prevent burn.
Throw in all spice, stir often to keep curry spice from scorching
Then chicken broth and water
Bring it to a boil, then put in the fish, seasoned with salt
Cook it in the broth for 15 minutes (do not over cook) turn down the heat to simmer.
Throw in squash and pepper, add rosemary and oregano fresh herbs. Adjust salt and spice as needed.
Last add in full cream (not too much) cook another 7 minutes
Best to serve with rice.
Brohne's Fish Chowder
1 yellow onion 
5-6 carrots
3-4 celery ribs
5 slices thick bacon
2 sticks butter
1 quart milk
1 quart half and half
1 quart heavy cream
2 to 4 pounds fish (we like our chowder chunky)
8 Yukon gold potatoes 
1 to 1 1/2 cups white wine
16 oz clam juice
1 and a half cups flour
5 sprigs fresh thyme 
half teaspoon celery salt
quarter to half teaspoon cayenne 
3 to 4 shots Tabasco 

Mix 1 quart milk and 1 cup white wine along with 10-15 cloves garlic, fresh thyme, and 1 1/2 tbsp salt. other aromatics like scallion can also be added if you like. bring liquid and aromatics to simmer, careful not to scorch milk.
add 2-4 pounds rough cut fish to poaching liquid in small batches and simmer each batch 5-7 minutes. remove fish and cool on wire rack. cook fish in batches. reserve poaching liquid when done. 
simmer cubed potatoes in milk poaching liquid, set aside with fish on wire rack.
mince bacon and fry off in heavy dutch oven. remove bacon when crispy and reserve fat in pot. mince or Cuisinart onion, carrot and celery together until fine, add to bacon fat in pot, cooking on med/low until tender
add 2 sticks butter to pot, stir until melted/combined with veg
add 1 1/2 cups flour to make a vegi-roux
when flour/butter/veg are cooked off (about 3 to 5 minutes) add warm milk poaching liquid from fish poach to make a thick sauce
add 16 oz clam juice
add 1 cup white wine
add cooked cubed potatoes 
flake fish slightly, mostly to check for any small bones to remove. we keep our fish in good toothy chunks. add fish.
add 1 quart heavy cream
add 1 quart half and half
reintroduce fried bacon mince
season with celery salt, cayenne, Tabasco to taste (usually about 3 light shots), salt to taste, black pepper to taste, and 1/2 tsp white pepper, dried sage 1/2 tsp, dried rosemary 1/2 tsp, and 3 bay leaves. simmer low, stirring frequently or transfer to crock pot and let simmer on low until you can't hold off from indulgence any longer.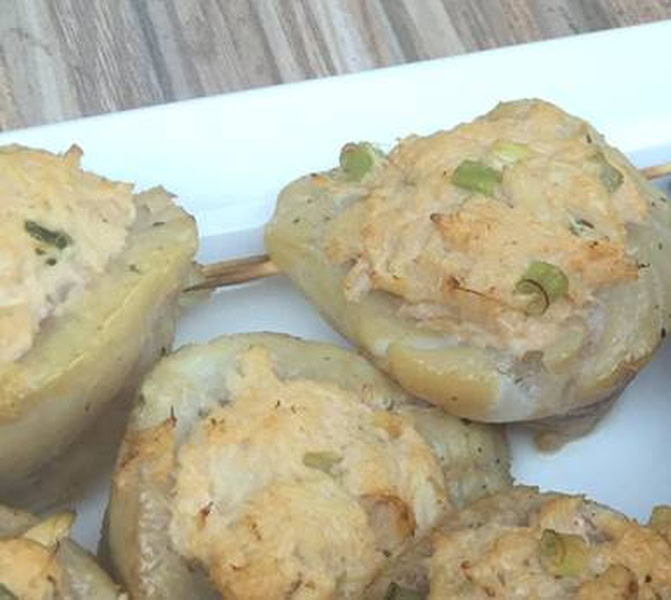 Crab Stuffed RockCod Blossoms Preparation
For Filling:
Mix crab, mayo, sriacha, and green onions together in a bowl.  Let sit in refrigerator uncovered for at least an hour to come together and firm up.
Assembly:
Finish skinning and cleaning Cod filets.
Using a toothpick or skewer form the Cod into round "cup shapes".
Season both sides of the Cod "cups" with garlic salt.
Fill each cup with crab mixture, stuff down and pack firmly.
Crab Stuffed RockCod Blossoms Ingredients
4-6 FRESH CAUGHT RockCod Filets skinned with love by Greg
4oz Crab Meat (lump fresh is best, Dungeness if available but any lump style crab meat will do)
1/2cup Mayonnaise
2tbl Sriacha Sauce (add more if you like it hot)
1 stalk  Green Onion Chopped
To taste Garlic Salt with Parsley
TO COOK:
Option 1:  Wood Fired Grill
Grill on HIGH in a wood fired grill for 8-10 minutes until the fish is translucent and the crab is warm through.
Option 2:  Broiled
Make some extra Sriacha-mayo and put into a squeeze bottle. 
Make a zig-zag pattern over the blossoms with the mayo.
Place on broiling pan sprayed with cooking spray.
Broil at 450 (convection is nice) 5-8 minutes until the mayo is browned on top and the fish is shiny.
REMOVE THE PICKS AND ENJOY!!!
Recipe by - Joe Schumaker, professional chef
Stewart's Lingcod fish stew
Put ingredients in a pot of water of about 1 gallon water boil. Boil for half hour to 45 mins. Add salt and pepper.
Remove fish 
Cool fish 
Pick off meat and remove bones etc 
Throw fish and all ingredients into pot
Boil it down for 30 minutes. It is amazing.
One lingcod cleaned or just use fillets
Peel 4-5 medium potatoes and dice half inch by half inch
Dice 2 onions
Salt & Pepper
Dice a couple stalks of celery
A can or bag of peas
A can or bag of corn
A quart of milk
Two tablespoons of corn starch mixed in a half cup of water
More recipes
---
Hot Bobby's Lingcod
Dixie Fry (any grocery store… even Safeway)
8 lemons juiced
3 pounds lingcod cut into fish sticks
peanut oil
canola oil
tartar sauce
Soak fish sticks in lemon juice for at least an hour. Get a big skillet hot with ¼" peanut oil and ¼" canola oil. Roll fish in a bowl of Dixie Fry and place in hot oil. Turn once. Done when golden (not dark).
---
Tom's "get 'er done" Salmon on a cedar plank
Cedar plank SOAKED FOR TWO HOURS before starting this recipie
Salmon filet(s)
Salmon rub seasoning or Chef Prudomes Seafood Magic (Safeway has it)
Note: Don't use any liquids or seasonings other than the above (oil, beer, etc and don't add salt and pepper, etc. Just stick to the ingredients listed)
Soak cedar plank for two hours. On a plate, season the tops of the filets with a coating of seasoning. Place cedar plank on heated grill for 5 minutes then flip over. Place the filets skin side down on the plank, keep the grill around 300-350 if possible. Cook for 15-20 minutes depending on the thickness of the filets and amount of heat. This is the most simple way to cook the filets and best tasting I've found yet.
---
Josh Halibut
Halibut Steaks
Panko Italian Seasoning Bread Crumbs Mix
1 Egg, raw beaten
Flour
Olive Oil
Lawry's Garlic Salt
Cut raw fairly thick Halibut Steak into 4 pieces, dust flour over each piece of Halibut, dip in raw egg, then coat each piece of Halibut with Panko Italian Seasoned Bread Crumbs.
Put 2 TBS of olive oil in a fry pan and saute each side of the Halibut for five minutes, total cooking time ten minutes. Salt with Lawry's Garlic Salt.
---
Ron's Gravlax
Salmon filets cut no more than 1" thick.
Put boneless filets on a plate and sprinkle (almost coated) with salt. Lay dill weed on top and spritz filets with vodka.
Put filets meat-to-meat (not skin-to-skin) and wrap tightly with saran wrap.
Lay flat on plate in refrigerator with something heavy on top like a brick for 36 hours.
Flip the wrapped filets over and apply brick pressure again for another 36 hours.
---
Smoked Salmon Deluxe - Tom's version
Based on 5 pounds of salmon filets cut no more than 1" thick. Have a bag of Little Chief Alder wood flavor fuel ready for smoking the following day.
2/3 cup sugar
5 cups soy sauce
2 cups water
1 tsp. onion powder
1 tsp. garlic powder
1 tsp. black pepper
1/2 cup capers
1 tsp. cayenne pepper
1 tsp. Tabasco sauce
1/2 bottle of decent ($12-15 a bottle) white wine (in other words, no 2-buck chuck)
Put everything in a blender on real slow or use a hand held blender/mixer.
Submerge fish in brine using a stainless, glass or ceramic bowl/pot (non-aluminum). Cover for 18-24 hours in fridge.
Take salmon out of fridge, oil up racks with vegetable oil (spray on PAM works great) then put fish on racks, skin side down. Fan the racks for about 30-60 minutes so some sort of skin (pellicle) develops. Start the smoker with a pan of wood.
Smoker ought to be smoking good. Drop rack of fish into smoker. I smoke mine for 5 or 6 hours depending on weather and amount of fish in the smoker. Usually takes 4-5 pans of wood. Change pan about every hour. Fish on bottom racks get cooked more so put big/thick pieces on bottom and thinnest on top.